Welcome to DivorceHotel: Global authority in the field of divorce
DivorceHotel is the international founder of 'Divorcing in a positive way'. We regard your separation not only as the end of your marriage but, importantly, the beginning of a new phase in your life.
If you decide to divorce, we can help you to do so quickly, skillfully and affordably, in a way that suits you best. At DivorceHotel you can choose from an office divorce, a hotel divorce over a weekend, or an online divorce.  All solutions are based on our 'hotel philosophy' which means that everything takes place on neutral territory, in a  relaxed environment with all kinds of comforts and facilities at your disposal. We will never treat you as a client but rather as a VIP guest. Allow us to serve you, and to support you, in settling your divorce in as positive a way as possible.

DivorceHotel on Good Morning Britain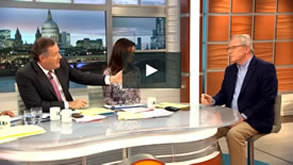 Click here for more DivorceHotel news.